In the United States alone, 5.7 MILLION people suffered from heart failure in 2016, and it is projected that heart failure would cost the U.S. $30.7 BILLION PER YEAR in medical care and lost wages. [1]
Currently patients with stage D of heart failure with reduced ejection fraction (HFrEF) are typically referred to cardiac transplant centers. The short- and long-term outcomes following cardiac transplantation have been excellent. However, there is a chronic limitation of organ availability. In the United States alone there are about 4,000 patients listed for heart transplant according to the U.S. Department of Health and Human Services, Organ Procurement and Transplantation Network.
Current ventricular assist devices (VADs) irreversibly modify the heart, and their components are in direct contact with blood, which requires patients to use anticoagulants to prevent blood damage. In addition, since they permanently replace the heart's function, current VADs consume a lot of power.

The minimally-invasive HELIX-8 heart assist device improves cardiac pumping function by providing a helically-arranged contractile force over the pericardial sac according to the heart's pace.

Helix-8's patented solution eliminates the need for anticoagulants by removing blood contact [2].

The Helix-8 device has low power requirements because the device only assists the heart as needed.

Helix-8 does not override heart function, so even if the device malfunctions, the heart will still operate.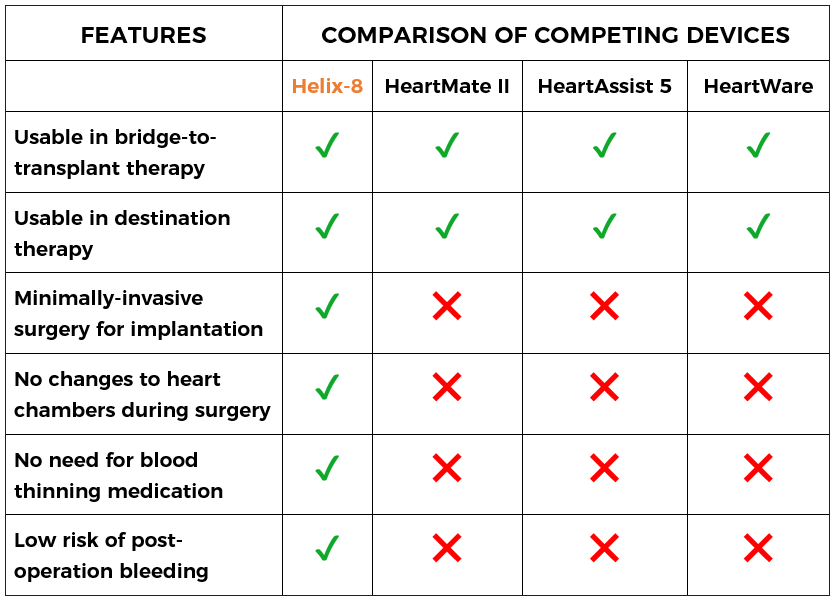 Helix-8 will be linked to proprietary software that controls and monitors the pump and the patient's hemodynamics.
DEVICE FUNCTION
DEVICE FUNCTION
| | |
| --- | --- |
| | |
| An animated image that shows the device pumping action on a swine heart with an earlier prototype. As the base twists, it squeezes the heart tissue and helps the heart pump blood out of the ventricles. | Figure showing the 3D model of our device. The top two pictures show the device action, while the bottom two pictures offer other 3D views of our preliminary design. |
Contact us
KLAB • Kheradvar Research Group - University of California, Irvine - Irvine, CA 92697 : 949-824-6538